What is the best credit card with the lowest interest rate
BankAmericard Credit Card Reviews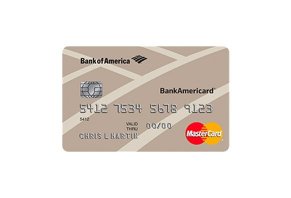 The BankAmericard is a Bank of America credit card with an introductory interest rate of 0% for 18 months on balance transfers. The card has no annual fee and free access to your FICO score.
Review Topic:
Credit Cards,
Personal Finance
Website:
www.bankofamerica.com
About BankAmericard Credit Card
The BankAmericard is one of Bank of America's best credit cards for balance transfers. Cardholders get 0% APR on all balance transfers made in the first 60 days and no annual fee.
If you're stuck with balances on other credit cards and you're paying lots of interest on those balances, this card could be a good choice for you.
However, before you make that choice, you should take a few minutes to figure out what this card offers in the short term, what it offers in the long term, what fee's you'll have to pay and what other consumers are saying about this card.
It's also key to compare this card to other similar cards competing banks may offer you better deals.
We're going to explore each one of the areas we talked about here, taking the time to walk through some of the fine print to help you understand exactly what you're getting into.
The Benefits of the BankAmericard
Every credit card you check out will have a series of up-front benefits, as well as long-term perks that will keep you happy a few years down the road.
The BankAmericard's Short-Term Perks
We've already mentioned the main short-term perk of the BankAmericard: the 0% APR on balance transfers.
What this means is that, when Bank of America tells you, "Hey, we're going to give you our BankAmericard with a $X,XXX credit limit," you have 60 days from that day to make a balance transfer.
If you apply online for the card, you'll have a chance to enter the amounts and accounts that you want to transfer.
You'll also have a chance to log into your BankAmericard account after you're accepted and make a transfer.
18 Months of No Interest: What Does it Mean?
Once the transfer is made, you won't pay any interest on that balance until 18 months after you got your card.
So, if you get your acceptance notice on Nov. 1, 2017, not only do you have 60 days from that day to make a transfer, but your 18 months of 0% APR starts on that day, too.
This sounds straightforward, but people often forget that, once those 18 months are over, you'll be charged interest on the original amount if you don't have it all paid off.
So, if you made a transfer of $3,000, then you have 18 months to pay that off. If you don't and your APR is 20%, Bank of America will add $600 ($3,000 X 20%) to your BankAmericard balance.
From that point on, you'll not only have all that back interest built up, but you'll also be paying monthly interest on any chunks of that original balance you still haven't paid off.
Now, you'll also be charged a fee to make that initial transfer, but we'll get into that in the section on fees and rates.
Pro tip: Don't assume your BankAmericard will have a high enough credit limit to accommodate all the balance transfers you want to make.
The BankAmericard's Long-Term Benefits
Most credit cards you'll get have several different types of long-term benefits. We consider "long-term9rdquo; to mean perks that stay with the card beyond the introductory period, which is, in this case, 18 months.
Anyone who has a Bank of America credit card gets access to their FICO score, which is the main credit score lenders use to figure how much they'll let you borrow and what kind of APR they'll charge you.
We'll get into this a little more in the next section, but, for now, we want to point out that the APR on the BankAmericard card is lower than any other cards Bank of America offers and lower than any card you'll find with Chase.
One of the big reasons why credit cards are better than debit cards is zero liability. This means that you aren't responsible for any fraudulent purchases made on your card. Even though you won't be responsible for these charges, it's important that you notify Bank of America as soon as you can.
Doing so means they'll cancel the card and send you a new one, which is important, especially if you're paying bills with the stolen card/card number.
When you use your BankAmericard to make a purchase online, Bank of America will use ShopSafe, a feature that creates a temporary credit card number with which you make your purchase. Your card will be charged, but you'll never use your card's number to buy the item or items.
How the BankAmericard's Benefits Compare to Other Cards
Zero liability is a feature nearly every credit card has these days, especially cards from Chase and American Express.
However, Bank of America's ShopSafe is a unique bonus that you won't see from Chase or AmEx. Identity theft is a big deal these days, and it's nice to know Bank of America is offering its credit-card customers added protection.
The free FICO score is industry standard Chase, American Express, and Discover provide the same thing.
The BankAmericard's Fees and Rates
When you sign up for the BankAmericard, Bank of America will send you some paperwork when you get the card in the mail.
This paperwork is pretty important because it shows you all the fees you could pay, as well as the interest rates you'll be charged for various transactions.
Here's a quick list of those fees and rates:
APR - Between 11.49% and 21.49%, depending on your credit scores.
Balance Transfer Fee - 3%
Annual Fee - None
Penalty APR - 29.99%
Late Fee - Up to $38
These are the main fees and rates you'll need to keep in mind. The APR applies to all purchases and to any balance transfer balances left after the 18-month intro period.
Here's the catch, though: If you make one late payment, all APRs on your BankAmericard will go up to 29.99%. This is what's known as a penalty APR, and it's permanent.
Some AmEx cards have a penalty APR, but, unlike Bank of America, American Express is willing to reconsider your penalty APR every six months.
The best way to avoid a penalty APR is to set up automatic payments on your card. That way, you'll at least be paying the minimum due and you won't have to worry about missing a payment.
What Other People Are Saying About the BankAmericard
There are plenty of consumers out there like you who've chosen the BankAmericard. Before you follow the crowds, consider this: Many of the reviews of this card are negative or neutral.
BankAmericard Reviews on Credit Karma
Of the 20 reviews found on Credit Karma, 50% are three, two or one stars.
Customers complained of low credit limits and limited benefits. As we mentioned earlier, low credit limits are a big problem for a card whose main short-term perk is a 0% balance transfer.
Several people who left reviews said the balances they wanted to transfer exceeded the credit limit they were given, which meant they had to carry balances on two cards.
Because every consumer is different, it's really hard to say who will get a big credit limit and who won't, so keep this in mind as you consider this card.
Several other websites have reviews of the BankAmericard, but the reviews are at around two years old and older. We tend not to take those reviews into account because the card could've had other offers on it that don't match up with what's available today.
Based on what we've read from other consumers, we think the BankAmericard gets a fair shake. It's a card with limited benefitsone, reallyand no rewards to speak of. There are other cards out there that can offer you much more, which is what we'll cover next before concluding our review.
How the BankAmericard Compares to Other Cards
We included the BankAmericard in our Best Low Interest Credit Cards of 2017 article. Compared to the other cards we reviewed, it ranked fourth of six cards.
We gave the BankAmericard high marks for its 18-month introductory 0% interest rate and for its low APR range.
However, we really felt like the BankAmericard lost steam in the fees and rates categories.
The card finished last in late fees:
The BankAmericard was also at the bottom of the list for penalty APR:
Slate, Simplicity, Ring BBVA: None
Citi Diamond: Up to 29.99%, may apply indefinitely
BankAmericard: Up to 29.99%, will apply indefinitely
What sets this card apart from others isn't so much the benefits it offers, but what it lacks. The Citi Simplicity and Citi Diamond, for example, offers 21 months of 0% interest on balance transfers and purchases, whereas the BankAmericard offers 18 months of 0% on balance transfers only.
This is the main difference between the BankAmericard and its competitors.
Our Final Thoughts About the BankAmericard
The BankAmericard's introductory offer of 18 months of 0% interest is great if you have high balances you want to transfer.
You'll make interest free payments on those balances until the end of the intro period, but, remember, you have to have the balance paid off in full to avoid any interest charges.
In terms of introductory perks, this is all the BankAmericard has to offer. The long-term benefits this card has to offer are pretty normal most credit cards offer the same perks.
Try the BankAmericard Cash Rewards
This card could be a good fit for Bank of America customers who want to keep their credit cards in-house, but, if that's the case, we think the BankAmericard Cash Rewards could be a better option for you.
The Cash Rewards is offering 12 months of 0% APR on purchases and balance transfers. If you spend $500 in the first three months of owning the card, you'll get $100 deposited to your account.
On top of that, you'll earn cash-back rewards on all purchases (1%) and bonus rewards on gas purchases (3%) and groceries (2%).
Based on our calculations, the average American household could earn more than $300 per year in cash back.
Yes, the Cash Rewards card has a shorter 0%-interest period, but it does offer 0% on purchases and nice cash-back rewards.
Moving Beyond the BankAmericard: Citi Simplicity, Barclaycard Ring
If you're willing to step outside of the world of Bank of America, there are great cards out there for 0%-interest offers and other perks.
For example, the Citi Simplicity has no late fees and 21 months of 0% interest on purchases and balance transfers. Balance transfers come with a standard 3% APR.
The Simplicity's APR was the highest of all the cards we researched for our article (13.24%-23.24%), but the Barclaycard Ring was the lowest at 8.25%.
Another advantage to the Barclaycard Ring? The card doesn't charge you for balance transfers.
Both of these cards topped our list of best low-interest cards for 2017, and for good reason. Both of them offer 0% interest on purchases and balance transfers, which is something the BankAmericard doesn't offer.
You'll also get a low-interest rate and no balance transfer fees from the Barclaycard Ring, which, based on our rankings, made it the best card of the bunch.
If you're looking for low-interest offers, don't limit yourself to low-interest cards. You can also find great deals with cash-back cards. Take a look at our rankings for the best cash-back cards of 2017.
We rank the best credit cards based on seven different categories, including intro APR, cash-back rates, and best perk.
Write a Review for BankAmericard Credit Card!
Share your experience to help others shop smarter discover great products.
How to Lower Your Credit Card Interest Rate
Last Updated: July 25, 2017
In a perfect world, your credit card interest rate would be irrelevant because you would never carry a balance on your credit card account and, in turn, would never be charged interest. In reality, you probably carry a balance now and then, or you might find yourself wanting or needing to at some point in the future. If you have looked at your interest rate lately, chances are it is over 20 percent and you are paying way too much each month in interest charges. How can you fix this? Learn to master the art of asking your credit card issuer to lower your interest rate.
Will a Credit Card Company Lower the Interest Rate Because You Asked?
Not necessarily, but the chances are far better than simply waiting around for your credit card company to notice how much you really do deserve a lower interest rate. They are, after all, in the business of making money. So why in the world would they go out of their way to make less money for a service you seem perfectly fine paying more for?
In other words, the only way you're going to get a lower interest rate on your credit card is if you ask for it. Granted, your credit card company is under no obligation to give it to you but, done right, many a happy credit cardholder can attest that this approach does work.
866.785.9884 Call for a FREE credit repair consultation FICO ® score from Lexington Law
Best Time to Ask a Credit Card Company For a Lower Interest Rate
The longer you've held an account in good standing, the more likely your credit card issuer is to lower your interest rate.
For instance, if you have a credit card that you've been making on-time payments to every month for a year or more, it's the perfect candidate. On the other hand, if you have a credit card you've only had a couple of months or that you've had a recent history of making late payments on, wait and make at least 3 to 6 months worth of on-time payments before calling in with the ask.
What Interest Rate Should You Ask For?
This depends on your credit score, but it's a good rule of thumb to shoot for 9 to 12 percent.
What Kind Of Credit is Needed to Lower the Interest Rate?
Your credit need not be excellent for you to receive a lower interest rate on your credit card. However, it definitely helps if your credit is better than it was when you opened the account.
How Does a Credit Card Company Decide Whether to Lower the Rate?
A few factors go into a credit card company's decision to lower your interest rate, including:
How politely you ask for it.
Your payment history.
Your current credit score compared to your score when you opened the account.
The prospect of losing your business to a competitor already willing to offer you a lower interest rate.
How to Ask a Credit Card Company to Lower the Interest Rate
Politely. Yes, it's a great big credit card company you're dealing with, but the decision really lies with one person - your customer service rep.
Here's a general how-to of things:
Hold onto the credit card offers you receive from other issuers with offers of interest rates lower than your current card in question.
Before you make the call, find out your credit score. Do a little research to see what interest rates and credit cards are being offered for borrowers in your credit score range.
Call the phone number on the back of your credit card.
Tell the customer service representative that you are calling to ask for a lower interest rate on your credit card. Chances are slim they will make you an offer at this point. If they do (and it's competitive), great. If not, move on to step 5.
If they tell you that your rate cannot be lowered, explain that you have received other offers for credit cards with lower interest rates as low as [quote the offer]. Then tell them you'll be taking your business elsewhere unless they can lower your interest rate accordingly. The interest rate you ask for need not match what you are being offered by another card issuer, particularly if the new offer is very low. You are far better off asking for an interest rate ranging from 9 to 12 percent.
What If They Won't Lower the Interest Rate?
It's not the company saying no, it is just one person. Call back a different day and you just might be on the receiving end of a friendlier voice.
What If I Call Back and the Credit Card Company Still Says No to a Lower Interest Rate?
If the credit card company still won't budge, you can do one of two things:
Wait a few months then try again.
Transfer the balance to a card with another issuer that is offering you a lower interest rate. Just be sure to shop around for the best rates you can find -- on interest rates, of course, but also balance transfer fees.
Too Afraid to Ask For a Lower Rate?
Get over it. Rest assured, your credit card issuer is very accustomed to cardholders calling in to request a lower interest rate, so there is nothing odd or out of the ordinary about it. As with anything else in life, the more confidently and calmly you ask, the more likely you are to get what you want.
what is the best credit card with the lowest interest rate
Credit card balances are rising faster than consumers can pay them off. And with a high interest rate card it can be difficult to even make a dent in debt. According to Consumer Action, a non-profit, membership-based organization, a March 2004 survey revealed that only 39% of the people said they pay their credit card
Copyright 2017 CardRatings.com. All rights reserved.
General Disclaimer: *See the online credit card applications for details about terms and conditions of credit card offers. Reasonable efforts are made to maintain accurate information. However all credit card information is presented without warranty. When you click on the Apply Now button you can review the credit card terms and conditions on the credit card issuer's web site. Offers are subject to change without notice and the terms displayed may not be available to all consumers.
Lowest Interest Rate Credit Cards (1.5% #8211; 2.99%) in India
Carrying a credit card has become a fashion and a status symbol. But individuals do not take into consideration the various fees and charges of the credit card. Amongst various factors considered before buying any credit card, the most important one is the monthly interest rate which should be as low as possible. Although for the on-time bill payer this charge doesn't matter much compared to the frequent later payers. So for late paying individuals, low interest credit cards are highly recommended. However be noted that frequent late payments will ruin your credit score increases the chances of denial or cancellation of loans or credit card applications in the future.
Here is the list of low interest credit cards in India with interest rate between 1.5% to 2.99%:
The Best Low-Interest Credit Cards in March
When it comes to managing your money and your credit cards, there are a lot of best practices to employ -- such as not being late with payments, lest your interest rate gets increased. It's also important, though, to be sure you're using a credit card that's designed to serve you best.
If you're carrying revolving debt on your credit card(s), or tend to do so now and then, you might be well served using a card that charges low interest rates. Below are some of the best low-interest-rate credit cards for your review.
Image source: Getty Images.
Note that each is best for people who seek low rates -- but each will vary in how perfect it is for you. Learn more about these contenders to see which one(s) make the most sense given your needs, preferences, and charging habits.
What to know about low-interest rate cards
One thing to know about most credit cards is that they don't typically feature a single interest rate. Instead, there will be a range, and you'll get a rate at the low end of the range, depending on how creditworthy you're deemed to be -- in large part via your credit score.
Also, some low-interest rate cards feature the lowest rate of all -- 0%! -- but that zero rate will only be temporary. A good zero-interest card will maintain that teaser rate for a year to 18 months. That can be perfect for someone carrying debt who wants to do a balance transfer and pay it off as soon as possible.
If you decide to transfer your balances, check to see what fees, if any, are charged for that. Some cards charge nothing, while others might charge 3% or 5% or so of the sum you transfer, which could amount to hundreds of dollars, which kind of defeats the purpose.
Image source: Getty Images.
Below are some of the best low-interest credit cards that are likely to keep your interest costs relatively low. Each offers a suite of other benefits, as well.
Barclaycard Ring MasterCard: This card charges no balance transfer fee, and its initial annual percentage rate (APR) is 0% for the first 15 months for transfers made within 45 days of opening the account. After the introductory period, the APR for purchases, balances owed, and balance-transfer sums (but not cash advances) will be variable, tied to the prime rate. Its rates are quite competitive -- and it doesn't levy a penalty APR, either, if you're late paying a bill. The Barclaycard Ring MasterCard also offers online access to your FICO credit score, which can be handy if you're working hard to pay off debts and beef up your score -- perhaps in preparation for getting a mortgage, or taking on other debt. It doesn't charge foreign transaction fees, either, which is nice if you travel outside the U.S. There's no annual fee. (Read our full review ofBarclaycard Ring MasterCard to learn more.)
BankAmericard®: BankAmericard® also charges no annual fee, though it does charge a balance transfer fee of 3% of the value of your transfer (or $10, whichever is greater). Its initial APR is 0% for the first 18 billing cycles for transfers made within 60 days of opening the account. After that, the APR is, Our lowest available interest rate among all BankAmericard credit card products. Its rate, too, will fluctuate along with prevailing interest rates -- and if you're late paying a bill, you may be slapped with a steep penalty APR, costing you a lot in interest due to a much higher interest rate. (So don't be late!) BankAmericard® also offers online or mobile access to your FICO credit score. (Read our full review ofBankAmericard® to learn more.)
Citi Simplicity Card -- No Late Fees Ever: This card features no annual fee, along with no late fees ever and no penalty rate ever. For balance transfers, it charges a fee of 3% of the value of your transfer, or $5 -- whichever is greater. Its initial APR is 0% for 21 months for both purchases and balance transfers. After that, its low variable APR applies. The Citi Simplicity Card does not feature a penalty APR -- in other words, if you pay a bill late, it won't jack up your interest rate astronomically, as many cards will. (Read our full review ofCiti Simplicity Card to learn more.)
Discover it Card: This card doesn't have the lowest interest rates around, but its rates are still relatively low -- plus it offers cash back rewards. That makes for an appealing combination. (Note that if you're deeply in debt, it's not ideal for you, as you shouldn't be spending very much and should be aiming to be charged as little interest as possible.) The Discover it Card charges no annual fee, and it includes your FICO score on each statement. The cash-back feature pays you 5% back on purchases in rotating categories (such as restaurants, gas stations, or Amazon.com), and 1% back on all other purchases. Spend $1,000 per month and you can expect at least $10 back per month, or $120 per year, and it can easily be more than that. (Read our full review of Discover it Card to learn more.)
Image source: Getty Images.
Don't just apply for, or own, any old credit card. They may all look similar, but some serve you better than others. Be sure to read the fine print and terms for any card of interest, too -- as some might delight or dismay you. Some, for example, may limit how big a balance transfer you can make, while others might be offering an enticing sign-up bonus. Some may favor customers with above-average credit scores, too.
Selena Maranjian owns shares of Amazon and JPMorgan Chase. The Motley Fool owns shares of and recommends Amazon. The Motley Fool recommends American Express. The Motley Fool has a disclosure policy.